How To Make Caesar Salad
How To Make Caesar Salad
So I have been asked a lot lately How To Make Caesar Salad. So I decided to post my own homemade Caesar dressing, homemade Caesar croutons and tell you how to make Caesar salad. It is very easy to make and is actually pretty fast to do. If you have company coming for dinner and you really want to impress them make this salad to start off your meal with. They will not believe it is homemade and if they do they will think you worked all day preparing it! This is a really good tasty salad that people will think is from a gourmet restaurant!
Do not forget to like my Facebook page and share it with your friends. I have a newsletter you can sign up to now, subscribers to my newsletter will get emailed exclusive recipes that will not be posted here for everyone so go ahead click here and sign up now.
Instructions on How To Make Caesar Salad – What you will need:
1 head romaine lettuce

washed and ripped into pieces

Homemade Caesar dressing (recipe here)
Homemade Caesar croutons (recipe here)
Homemade bacon bites
Freshly shaved parmesan cheese
Lemon juice
Freshly grated black pepper
Gather your ingredients together, lettuce, dressing, croutons, bacon bits, cheese, lemon juice, black pepper.
Wash and dry lettuce then rip into bite size pieces.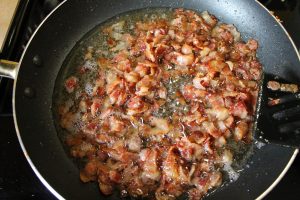 To make your own homemade bacon bits cut some bacon into small pieces and fry then scoop the bacon out into a bowl lined with paper towel and soak the grease out.
Start putting everything into the bowl.
Add homemade Caesar croutons.
Add a little homemade Caesar salad dressing.
Add a few drops of lemon juice. Once everything is in the bowl start mixing together.
Once mixed together dish salad out into salad dished and then add a little more freshly shaved Parmesan cheese and freshly grated black pepper on top.
There you have it. Your own homemade Caesar salad! Enjoy!
Thanks for reading my recipe and cooking with me. Happy healthy eating!
Check out these great deals on salad dishes, recipe books and accessories:
Featured Deals of The Day
Last updated on November 28, 2023 10:29 am